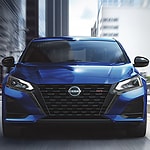 The 2023 Nissan Altima is the epitome of style and sophistication, boasting a sleek, dynamic exterior design that will turn heads. From its bold lines to attention-grabbing details, let's delve into the impressive exterior features that make the 2023 Nissan Altima a true showstopper.
Aerodynamic Excellence
The Altima's aerodynamic profile enhances its visual appeal, improves fuel efficiency, and reduces wind noise. Its sculpted lines and flowing curves contribute to its sporty and elegant presence on the road.
Signature V-Motion Grille